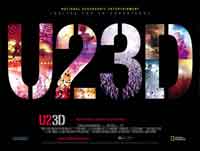 I accidentally invited bleeding-edge tech journalist Robert Scoble to a private Kyte party. How it unfolded is a little embarrassing, but suffice it to say that the moral of the story is, don't be Twittering first thing in the morning when you should be busy getting some work done anyway.
After drinks and deep-fried snacks at Johnny Foley's Irish Pub & Restaurant, the Kyte team, along with Scoble and his Fast Company podcast producer Rocky Barbanica (a disarmingly affable fellow, despite looking like someone who drives a Harley and could be menacing in a dark alley), headed over to the Metreon to see U2 3D in the IMAX movie theatre.
I wasn't sure what to expect, and, to be honest, I probably would have been more excited at the outset by a presentation of Aliens of the Deep or Magnificent Desolation: Walking on the Moon. With a movie of a U2 concert, I assumed I'd get bored and space out, wishing I could be Twittering from my mobile phone without being rude to my fellow attendees who'd prefer to sit in pitch-darkness. (I was wrong about the movie; read on.)
It's not that I dislike U2. In fact, in the '80s I used to listen incessantly to War on vinyl, lifting the needle at the end of "Seconds" and setting it down at the beginning of "Sunday Bloody Sunday" over and over again, sometimes taking a break from this two-set to listen to "Drowning Man" or "40." When I lived in "Oblique House," a small temporary co-op in Oberlin, Ohio during the summer of 1989, a friend who was a studio musician tuned his guitar to The Joshua Tree and played impeccable renditions of "Where the Streets Have No Name," "I Still Haven't Found What I'm Looking For," and "In God's Country." He emulated The Edge's signature textural style (although neither of us remembers if he'd used delay taps to mimic the "shimmer" effect). Better even than listening to the album on a top-of-the-line sound system, it sounded like a private U2 concert in our house. Later, when I traveled through the southwest, I couldn't look at any of the ubiquitous Joshua trees without thinking of the eponymous album. Tangentially, Boo owns an original Negativland's U2 EP (rereleased under another title), purchased just before U2's former label Island Records sued Negativland, a controversial lawsuit that the U2 members themselves thought was "very heavy."
But I stopped buying albums after Achtung Baby and years later realized that I'd quit listening to U2's newer stuff altogether — with the possible exception of "Beautiful Day" from All That You Can't Leave Behind (simply because it was unavoidable in the media and the public sphere). It wasn't intentional on my part; perhaps it was because the anger and intensity of War (still my favorite U2 album) appealed to me more than the sweeter, feel-good material of later years. (It's analogous to — though not as extreme as — my erstwhile enthrallment with Disposable Heroes Of Hiphoprisy in the early '90s before Michael Franti turned into a hippie peacenik; his sound mellowed out and got boring, at least compared to his previous musical incarnations. If I wanted tepid, unchallenging music, I'd listen to smooth jazz.)
Nevertheless, it's fairly easy to get in the mood for a U2 concert, virtual or live. U2 is like The Beatles, comprising a solid, talented quartet of British Isles musicians with names memorized by millions around the globe, known for their iconic radio hits as much as for their social activism. At this point, U2 is classic — and one would be hard-pressed to find anyone who doesn't like their music.
Posted January 30, 2008 by Mariva in entertainment, innovations, media, movies, music, technology