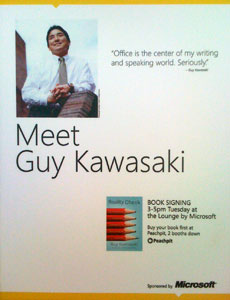 To: Mr. Guy Kawasaki
c/o Garage Technology Ventures
Dear Mr. Kawasaki,
The manager of the Microsoft booth at Macworld was going to throw this away after you were finished with your book signing for Reality Check, and I couldn't bear to see it go into the garbage, so I rescued it.
Then, at the GTD Summit, David Allen inspired me to go through my Inbox (a big pile of random papers) and do a Mind Wipe or a Mind Sweep or whatever he calls it, and I realized that as much as I enjoy looking at a photo of you — (who doesn't?) — I simply have no use for this.
Again, though, I hate to see it thrown into the trash, so I'm sending it to you care of Garage. Perhaps you can add it to your souvenir collection of professional engagements.
On a personal note, I thoroughly enjoyed listening to your interview at the Commonwealth Club, and I got a kick out of you interviewing David Allen at the GTD Summit. I'm sorry my fellow attendees and I ineptly let the elevator door shut on you before you could get on, but we couldn't find the "open door" button in time. (Probably designed by Microsoft.)
You mentioned at the GTD Summit that you feel guilty that you don't have time to respond to all your fans, so I'm proactively letting you off the hook. You don't need to write back. I won't think you're an @ssh0le.
Best wishes,
Mariva
P.S. I might blog this at mariva.com. It's vaguely funny.
Posted March 23, 2009 by Mariva in audio, books, business, celebrities, media, social, technology