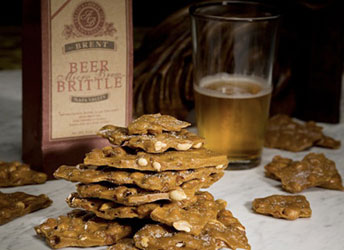 You may not get a hankering for peanut brittle often, but when you do, the yen can be inexorable. Making it yourself can be more trouble than it's worth, and it's not easy to find high quality peanut brittle in most stores, even in candy shops. (A quick search for "peanut brittle" yields mostly recipes, not readymade shopping sources.)
Enter Anette's Chocolates by Brent, maker of arguably the best commercially produced peanut brittle in the world. Anette's is based in Napa, the heart of Northern California's Wine Country. Napa Valley and surrounding areas are known for their world-class vineyards as well as top-notch microbreweries, artisanal cheese, and gourmet food products. Thus, it makes sense that one of Anette's most popular products is its Beer Brittle with Spanish Peanuts.
Honestly, mixing beer into peanut brittle didn't sound especially appealing to me, but I gave it a chance. I was floored by how good it was, the blend of dark roasted Spanish peanuts, amber ale, butter, sugar, and a little sea salt. If it sounds weird, give it a try — that is, if a good, satisfying peanut brittle is what you really want.
The Beer Brittle is Anette's signature peanut brittle, but more adventurous brittles include Buttery Chardonnay Wine Brittle, Firey Beer Brittle with Spanish Peanuts, and Triple Nut Bourbon Brittle with Pistachios, Almonds and Pecans. The Chardonnay Brittle is also excellent, but I found that the taste of white wine isn't as perfectly suited to peanut brittle as beer is. (In the context of peanut brittle, chardonnay is surprisingly tame compared to the pungency of brewed hops.) The "firey" brittle, laced with chili peppers, is so spicy and hot that it's hard to eat more than a mouthful or two at a time (which is probably a good thing). It's therefore wise to reserve the firey brittle as an unusual treat, perhaps consuming it alongside Anette's standard beer brittle. (I haven't yet tried the Tripe Nut Bourbon Brittle, which sounds sumptuous.)
Because Anette's is so close to an abundance of superlative wineries, it blends wine and liqueurs into other confections as well, notably chocolate truffles and sauces. The Tall Chocolate Wine and Liqueur Sauces set, for example, includes Chocolate Cabernet, Chocolate Port, Belgian Chocolate Brandy, Chocolate Raspberry Liqueur, Chocolate Amaretto, and Caramel-Butterscotch Scotch sauces. Other notable sweets include nuts, chews, and toffee, as well as what I'm eagerly looking forward to trying next: the S'mores Kit with Madagascan Vanilla Marshmallow, Rich Chocolate and Graham Cracker.
Anette's Chocolates ships throughout the U.S. and Canada.
Posted August 4, 2009 by Mariva in edibles, entertaining