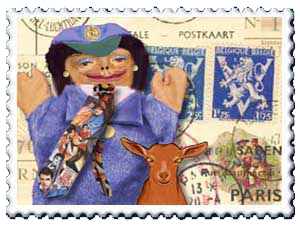 What a fun surprise it is to receive a beautiful or interesting piece of artwork in the mail; with mail art, the correspondence is the gallery.
I've been a mail art enthusiast ever since my first exchange of letters through the postal service. For the past several Januaries, I've taken the previous years' wall calendars and transformed the pages into glossy, colorful envelopes using the simple templates from Haila Harvey's The Envelope Mill. (Creative Correspondence by Michael & Judy Jacobs is an excellent mail art resource as well.)
Mail art doesn't have to conform to a typical stationery-in-an-envelope letter. Here are some of the things I've successfully sent through the mail:
clear plastic water bottles, emptied and dried, filled with colorful confetti or sand and tiny seashells and rolled-up messages
pieces of a jigsaw puzzle, which when put together, displays a handwritten message
giant postcards made from sturdy sheets of painted cardboard
giant messages rolled up and mailed in poster tubes
tiny messages mailed in Rx pill bottles
messages mailed in empty candy boxes or tins
catalog-size envelopes made from two wall calendar pages sewn together around the edges
letters written on large pieces of fabric, sometimes meant to be worn as artful scarves
collage art
sticker art
personalized books I've made with spiral wire or sewn bindings
personalized board games I've made myself
music and audio mixes
videotapes
I've had a lot of fun with this creative expression, but apparently, I'm rather tame as a mail artist. On occasion, I correspond with the famous mail artist John Held, Jr., who's received everything from a preserved blowfish to a simple dollar bill, mailed sans envelope. (Even John could hardly believe those things made it through the postal service.) Pretty much anything can be mailed as long as it's safe and legal and the postage can be hand-stamped. You can even mail a set of keys, as long as the key chain fob has the correct address and postage.
For more inspiration — or if you'd prefer to admire the mail art of others rather than create your own — I recommend the fabulous Griffin & Sabine series by Nick Bantock.

Posted November 18, 2005 by Mariva in arts, books, community, fun, resources