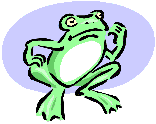 It really makes you think —
Philosophy Talk: A couple of Stanford University professors discuss one broad, intriguing topic — such as time, happiness, forgiveness, virtue, propaganda, science, free will, democracy, beauty and so on — each week on a public radio program.
ScienceBlogs: A central location for a variety of science-oriented blogs, from fun stuff like Uncertain Principles (physics, politics, pop culture) to more obscure subjects like Aetiology (the causes, origins, evolution and implications of disease and other phenomena). My favorite is Cognitive Daily, because it's like reading about a brain teaser every day.
Future Tense: Technology news and information in daily five-minute radio capsules. The February 1, 2006 report is kind of funny.
Science radio programs: This Week in Science, Science Friday, Earth & Sky, The Naked Scientists, Berkeley Groks Science Show, American Institute of Physics Science Report, Everyday Science (browse the archives of two-minute vignettes), Quirks & Quarks.
Scientific American Frontiers: A PBS series starring my favorite Army surgeon.
Posted February 8, 2006 by Mariva in education, entertainment, fun, innovations, news, resources