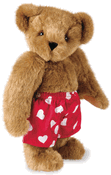 I can't imagine a sweeter Valentine's Day gift than a personalized teddy bear — especially one from the Vermont Teddy Bear Company (sister company to the PajamaGram Company), which makes high-quality, hand-crafted, fully jointed huggable friends that are guaranteed to last a lifetime.* As the company name indicates, each teddy bear is made in America, specifically in the Green Mountain State of Vermont.
To make your gift even more special — now that the original "-gram" communications service has ended — consider sending a Bear-Gram, which includes a bear of your choice, delicious gourmet chocolate and a personal message printed on a colorful gift card — all encased in a fun gift box, complete with an "air hole" so that your bear can get fresh air on his or her journey. You can choose from over one hundred Valentine's Day Bears, including the "Heart Throb" bear pictured here.
*How does the lifetime guarantee work? Simple: if your bear is ever "injured," you can admit him or her to the Bear Hospital, no proof of bear health insurance required! (A full-coverage, lifetime health plan is included with each purchase of a Vermont Teddy Bear.) And how might a bear get injured? See for yourself with the "When Bad Things Happen to Good Bears" video footage of bear bloopers.
Posted February 1, 2006 by Mariva in decor, edibles, fun, gifts, holidays, home