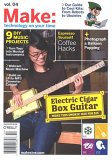 Remember "The Future"? When our environment was supposed to have become so technologically advanced that machines would do virtually everything for us, leaving us with many hours of free time to pursue various leisure activities? It turns out that the exact opposite happened, and so we're left with less time for accomplishing the basic tasks of maintaining our lives, let alone for leisure.
Paradoxically, those with free time often use it to cram more work into their lives, inspired by the growing Do-It-Yourself (DIY) movement. (Granted, it's work that's taken on by choice — as opposed to the DIY work we'll supposedly be doing after the post-peak oil crash — but still work nevertheless.)
Today's Your Call radio program, "The New DIY", focused on this phenomenon, interviewing the editors of Make (purchase here) and ReadyMade (purchase here) magazines (both said to overlap techie and crafty interests, although Make focuses a bit more on the techie side) and addressing the practical questions of avid DIYers, which the program host referred to as a "growing community of punks, greens, anticonsumerists and Martha Stewart wannabes." The show addressed everything from the ubiquitous home improvement television shows and networks to crafts (especially knitting, which has developed an inexplicable "cool" factor among young women) to modifying high-tech electronic and mechanical devices.
The host of the show, who admitted to being less than technically savvy, successfully made the Go-Torch soda can stove. The show's producer attempted to make "Mousey the Junkbot" — and found that while the results weren't successful, he enjoyed focusing on the journey, not the destination, and developed a better understanding of how electronic things work.
I happen to have copies of both Make and ReadyMade on my desk, and I have to admit that I find myself a bit more fascinated with Make — not that I would actually consider making a cigar box guitar or a LEGO PC myself. But the editor's description of Make's mission to help readers "liberate devices and bring functionality that was deliberately left out by the manufacturer" — or transform landfill-bound electronic appliances in novel ways, like turning a VCR into to an automatic cat feeder — seems almost revolutionary to me. Of course, some projects from the magazine and the Make Blog, like the pliers food chain or the AOL CD dodecahedron, seem ridiculous and remind me of the giant replica of the Golden Gate Bridge that some Silicon Valley programmers had constructed from empty soda cans and paper clips during the absurd excesses of the late '90s dot-com boom.
Having said that, however, I am amused by the surprisingly numerous iPod-and-mint-case projects, which transform candy containers into a digital audio players, and vice versa. For a few examples (in order from easy to challenging), you can make an iPod Shuffle case from a Tic Tac box, an Altoids case made from old iPod Shuffle or an MP3 player out of an Altoids tin.
If this stuff intrigues you, here are some resources mentioned on the program and that I've found as well:
Posted March 21, 2006 by Mariva in arts, crafts, education, fun, gadgets, innovations, resources, social