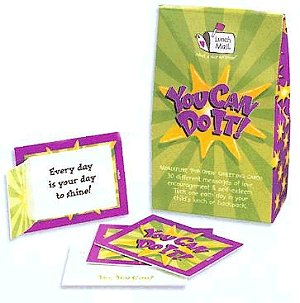 Sometimes the perfect thing to say has already been said by someone else. Lunch Mail has encapsulated this concept in an attractive product designed to uplift and inspire. Each Lunch Mail pack contains a set of thirty colorful business-card-size "surprise" messages. (Think fortune cookies or Cracker Jack prizes without the calories.) Created by the National Education Association, Lunch Mail was conceived as a special treat to include with children's lunches, but I've seen them used for various grownup purposes, such as ice-breakers for cocktail parties, classes and business networking mixers.
Another creative company that showcases pearls of wisdom is quotable, which produces notecards, magnets, journals and other stationery products that feature memorable quotes. Especially notable by quotable (ha!) is the Truth Be Told card pack, which contains "48 calling cards to give to your friends or enemies." Personally, I could imagine handing someone "nice to meet you" or "you rock" more than, say, "enough already" or "you need a mint" — but that's just me.
As they say, though, words are cheap, so if you're feeling crafty, you can create your own cards and gifts from the sayings of various wordsmiths. One of my favorite inspirational quotes, featured in the movie Rushmore, is:
When one man, for whatever reason, has the opportunity to lead an extraordinary life, he has no right to keep it to himself.
Posted March 15, 2006 by Mariva in arts, books, crafts, education, fun, gifts, innovations, social