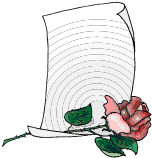 Does scented paper exist? I've been intrigued by the concept since seeing Legally Blonde, in which Reese Witherspoon's character Elle Woods submitted her resume on paper that was not only pink, but scented as well, to give it that "extra something." After conducting my own exhaustive research, however, I found out that you can't just purchase a ream of scented paper at, say, Office Depot.

The only products I found that were even close to this mythical scented paper included:
I also found a couple of resources for do-it-yourselfers, so that you can either infuse a scent into existing paper or make your own scented herb paper from scratch.

I hope someone eventually makes inexpensive scented paper that's suitable for printing. A savvy entrepreneur could fill some niche markets in the wedding, home crafting, scrapbooking, stationery, dining napkin or specialty paper industries. Maybe Martha or Kate — or, more practically, Wausau Paper or Gartner Studios — should look into it.
Posted December 28, 2005 by Mariva in bath & spa, business, decor, entertaining, gifts, home, innovations