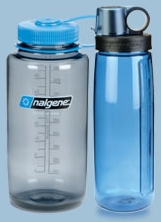 Even if you don't believe that the average person is chronically dehydrated, it's generally a good idea to drink fresh, clean water as often as you'd like. I seem to be thirsty all the time, so I never go anywhere without a water bottle. Because of its durable and unbreakable nature, my container of choice is the Nalgene bottle, which never compromises the taste of water. It's the perfect companion to the Thermos food jar.
There's no question that Nalgene makes bottles extremely well. The company's founder was an innovative chemist who developed unbreakable laboratory instruments and containers. Today, Nalgene is known in the scientific world for its wide assortment of Nalgene Labware, in addition to its consumer products for outdoors enthusiasts and travelers.
I have a variety of narrow-mouth bottles; my current favorite is the "Pretty Pink" 32-ounce bottle, although I like the "Sage Green," "Sapphire Blue" and "Vibrant Violet" translucent shades as well. A MiniGrip bottle fitted with an Easy Sipper (with a flexible straw threaded through the drinking hole) is perfect for staying hydrated during a long road trip.
Posted January 17, 2006 by Mariva in health, innovations, kitchen, resources, travel