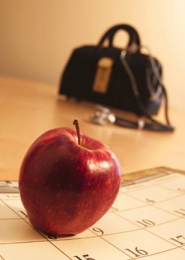 I realize that advertising represents (and sometimes causes) many of the ills of our society, but I can't help it — as something of a pop culture aesthete, I love me a good commercial. I think this is because I appreciate good design, clever concepts and creativity in any form. For better or worse — whether subsidizing theater companies and museums or hiring the best illustrators, writers and cinematographers — corporations have become the new patrons of the arts. I'm often astonished at how compelling the commercials for Volkswagon, Apple and Coca-Cola are.
And so, having said that, I sheepishly admit to admiring the recent Kaiser Permanent "Thrive" television commercial, which shows a montage of what modern society could look like in a utopian future:
A man in a diner reads a newspaper with the headline "Remembering Obesity: A Look Back."
A teenager in a museum of antiquities looks inquisitively at packs of cigarettes in display cases.
A vending machine is filled with a variety of organic apples.
A man pulls his car up to the drive-through window of a restaurant that serves neatly packaged "Mini-Size Me" fast food.
An intimidating bouncer guards the velvet rope in front of a hot nightclub, above which the marquee displays "Yoga Nite."
A young woman sits on the grand stairs of a large building, reading a book. Above the front entrance is a sign that says "Public Library," and above that is a neon sign that says "Open 24 Hours."
An overhead view of bicyclists pans out to show a rush hour of nothing but bicycles on the freeway.
The final scene is narrated with the slogan "Change — and the world changes with you."
One irony, of course, is that some people apparently feel that Kaiser has done the exact opposite of helping its customers "thrive." (In fairness, though, other Kaiser customers seem to have no problems — at least not yet.) Another irony is that the future may more likely look like this.
Still, though, good commercials generally do what they're supposed to do: make me feel warm and fuzzy (or, more specifically, optimistic and connected) for thirty seconds.
Posted March 22, 2006 by Mariva in arts, business, entertainment, health, innovations, movies