I hear all sorts of business ideas at the monthly Entrepreneurship Meetup — some OK but need further development, some not so good, some downright ill-conceived. At the last month's Meetup, I met the CTO of Prosper.com, an innovative financial startup that facilitates person-to-person lending — for example, a blogger in California lending $500 to a cafe owner in Maine — via a system that CEO and E-Loan co-founder Chris Larsen hopes to become "the eBay of loans."
Prosper seemed to be in the "OK but needs further development" category of startups until I heard more about it. My first thought was, "How safe is this thing? Could I just be throwing money away to strangers asking for a 'loan'?" Other Meetup attendees voiced similar concerns. "Are these loans in any way guaranteed?" asked the hotshot from OngoBongo (which, tangentially, may have bigger problems with the advent of Lala — or maybe not: see the update below).
(Update on OngoBongo: At a more recent Meetup, founder Eric Swan explained that OngoBongo will be the music version of NetFlix, which rents out movies from its large inventory of DVDs. Lala, on the other hand, is more akin to PeerFlix, a peer-to-peer DVD sharing system. So perhaps Swan's biggest problem — after he secures funding for the company, of course — will be one not of competition, but of perception.)
Is Prosper safe to use?
Apparently accustomed to this basic question, the CTO addressed our concerns. First he explained that no financial investment, except for typical savings accounts, are guaranteed. Stocks, bonds, mutual funds, and so on are not guaranteed, and neither are personal loans to family or friends. True dat. Having said that, he continued, Prosper does have a number of standard financial "safety features" designed to make lenders feel more comfortable with sending their money out into the ether, hoping for a nice ROI.
First, all potential borrowers must submit their information for a credit check. This way, lenders can view profiles of borrowers that include their credit ratings on a scale of AA through E, plus HR (high risk) and NC (no credit), as well as their color-coded debt-to-income ratios (20% or under appears in green; over 20% appears in red). Nervous lenders can focus on borrowers with better credit and lower debt-to-income ratios (and consequently charge a lower interest rate), whereas high rollers can gamble on high-risk, high-debt borrowers for a chance at bigger returns.
Second, Prosper has developed relationships with the major credit reporting agencies, so that missed payments or defaults — as with any other relationship with a financial institution — are immediately reported. Third, borrowers have a better chance of receiving bids on their desired loans if they join a group of trusted users. If a borrower misses payments or defaults, the reputation of the entire group is at stake. Fourth, a certain number of missed payments triggers the involvement of the dreaded collection agency (lenders can choose from three reputable agencies to take over the case).
Who lends to whom?
A borrower can request a loan for up to $25,000. A la eBay, Lenders must bid on loan requests so that borrowers can compete for better interest rates. The entry point for a lender is very low: the minimum bid is $50. How is this possible? A borrower asking for, say, $5,000 can receive this amount in one lump sum from a single lender — or in $50 increments from 100 lenders, or $250 increments from 20 lenders, and so on, in a piecemeal approach.
Prosper has been up and running for about a month now, and already there are myriad borrowers and lenders doing business. I put in $200 just to see how it all works. I decided to forgo the fun but time-consuming process of browsing the list of potential borrowers and instead create a standing loan for the Prosper database to match my bids with loan-seekers who meet my comfort-zone requirements (B or better credit, debt-to-income ratio under 20%, belong to a group).
Already two borrowers have accepted my bids: one lady is starting a nifty small business; a guy is using the Prosper system to consolidate his credit card debt and pay it down at a lower rate. The latter borrower is an example of the most common reason borrowers request loans on Prosper; the system seems to have created a "sweet spot" of interest rates. For lenders, the returns are higher (and possibly safer) than many other types of investments; for borrowers, the rates are lower than those of most credit cards. I asked the CTO if Prosper could potentially supersede the credit card industry, and he responded, "That's what we're hoping!" Sweet.
Prosper also has potential to support low- or reasonable-rate microlending programs for poor neighborhoods, as well as investments in one's own community. (In fact, a Google search for "microlending" garnered a sponsored listing for Prosper "people-to-people" lending — so Prosper marketers must be thinking of the potential for socially responsible investing.)
Issues and annoyances
Since the Prosper system is new — in fact, the first of its kind in the U.S. (although the first of its kind in the world may be Zopa, based in the U.K.) — it's still working out the kinks. For example, the ability for lenders to turn off unsolicited messages from borrowers was only made available today, after many complaints about "Can I get a loan from you?" type spam. There's no online loan calculator on the Prosper web site yet, which some Prosper employees admit was an oversight. (Update: At a more recent Meetup, Prosper's community marketing directory told me that there is in fact a loan calculator, but she conceded that it should be accessible from a more prominent location on the site.) And it took a full seven days for my initial funds to be transferred from my bank account to Prosper — the long transfer time is another major complaint on Prosper's lively discussion board. But overall, these are minor problems that will be addressed if Prosper stands the test of time. I believe it will.
Managing Prosper account data
Related to Prosper's novelty is the fact that common financial management software applications like Quicken currently have no method to manage something like a Prosper account, with all of its associated data (balance of amounts borrowed, balance of amounts loaned, funds sitting in the Prosper system versus money loaned out, various interest rates on each loan, and so on). Just figuring out which type of account to use for Prosper raised some interesting questions about the nature of this financial service. Is it a loan? An investment? A series of loans and investments? An asset? A credit card account for borrowers using Prosper to consolidate their consumer debt?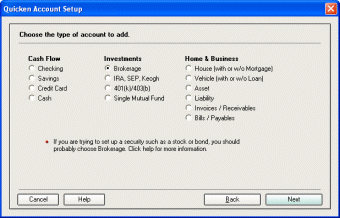 The fact is, it can be any one — or a combination — of these things. Until the Prosper model is understood (and accepted) by Intuit, Microsoft and other financial management software developers, we hapless users have to create our own spreadsheets to manage our account data, or make awkward adjustments to existing account management systems. Because I'm only lending (and not borrowing) funds, I chose the "Brokerage" account in Quicken and used the generic "Transferred Cash In" to register my deposits into the Prosper system (I'll use "Interest Income" to register the net earnings).
We are family
Perhaps what I like most about Prosper is its ability to humanize every member of a giant, scattered, diverse group of people — much like the internet itself. The borrower profiles are full of fun photos of people or their pet projects (like the vintage muscle car that one guy wants to fix up for $5,000), personal stories and compelling descriptions of hopes and dreams for the future. And in this age of record consumer debt — making some people too broke even to declare bankruptcy — Prosper's straightforward interface and person-to-person lending system seems like a refreshing prospect.
Posted March 7, 2006 by Mariva in business, community, finance, innovations, news, resources