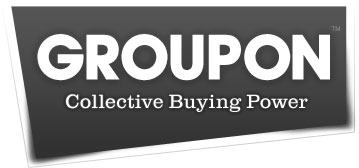 Groupon is a refreshingly unique concept in deal-seeking, utilizing the power of collective interest. (Groupon is a successful commercial project of The Point, which has developed software technology to leverage tipping points.) The way it works is, every day Groupon offers a new deal on something you might want to purchase locally — entertainment, dining, recreation, fashion, products, health and beauty services, and other services — and if enough people commit to buying it at the discounted rate, then everyone in that lucky group gets the same discount. There are three catches: you have a 24-hour window in which to make the commitment, the offer could sell out, and if the number of interested consumers fails to meet the minimum threshold, the deal is off. So you must decide quickly, and it helps to get your local friends and associates interested in the same bargain you're going for.
You can view deals at the Groupon web site or sign up for daily emails. Some of the discounted services featured at Groupon are intriguing, such as pedicures at cleverly named spas, cafes I've wanted to try, a whale watching trip, a Segway tour, a speed reading class, and a culinary tour of a historically Italian urban neighborhood. I'm still kicking myself for missing a one-month membership to the upscale Club One Fitness gym for only $25.
Small businesses looking for an interesting marketing opportunity may want to consider Groupon. The Groupon for Businesses section promises to deliver "motivated consumers" without risk of an up-front investment. Groupon acts as a broker in the transaction; it collects payments from customers, takes a cut of the profit, and cuts a check to the business — but only if the threshold of minimum commitment was met and the deal was realized. (Groupon claims that the "average check size is 60% greater than the Groupon's value"; if this is true, it seems like a win-win-win for the business, customers, and Groupon itself.) Groupon also offers a free monthly newsletter on business promotion tips and tricks.
Groupon currently offers deals in seventeen major markets in the U.S.: Atlanta, Austin, Boston, Chicago, Dallas, Denver, Houston, Los Angeles, Miami, New York, Philadelphia, Phoenix, San Diego, San Francisco, Seattle, Tampa, and Washington, D.C.
Posted August 10, 2009 by Mariva in business, city, deals, innovations, shopping, technology