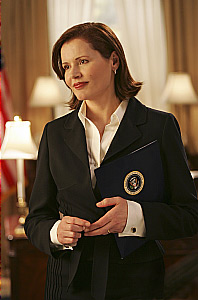 I'd never gotten started with The West Wing, so I wasn't sure what all the fuss was about with regard to a fictional TV show about an American president — until I saw Commander In Chief. After the pilot episode — which detailed the unusual circumstances leading to the presidency of politically independent Mackenzie Allen (played adeptly by Geena Davis) and which showcased a tear-jerkingly inspiring speech by just-sworn-in President Allen — I was hooked.
Because of the buzz around the possibility of a woman running for president in 2008, Commander In Chief has created a stir in the media and the blogosphere. Oprah Winfrey said that Davis's portrayal of President Allen "clears the way in the mind for the possibility of a woman president." The Infamous Brad blog hosts an interesting discussion about the possibilities of a female candidate in the real world, and how Commander In Chief may affect such a possibility. Further blurring the line between reality and fiction is the "Mackenzie Watch" blog, an "official" source of political punditry about President Allen — complete with posts and comments — managed by ABC.


In addition to art imitating real life, art is also imitating art. According to the IMDb trivia for the show, "the characters of the President and Vice President were named after the two actors who played those roles in [Rod] Lurie's previous political thriller, The Contender: Teddy Bridges, named for Jeff Bridges who played President Jackson Evans, and Mackenzie Allen, named for Joan Allen who played Laine Hanson, his vice presidential nominee."

While the punditry surrounding the show has been interesting, not all opinions have been 100% positive. The Happy Feminist blog is critical — not of a woman being president per se, but of Davis's character "fulfilling all the worst stereotypes of how a woman would make policy." I don't know if I'd go that far — personally, I'm amazed by the presidential and states(wo)manlike quality of Davis's portrayal of Allen, and I love the way Allen makes her own decisions despite the sometimes contrary opinions of her advisors — but I concede the blogger's point to some extent, because I realize that physical stature, poise, countenance and even styles of decision making are substantially different from the way in which policy is created and handled.
And there is an inordinate amount of press covering the subject of Davis's/Allen's lips. Andrew Wallenstein, television critic for NPR, said, "…to say Davis has 'bee-stung lips' is an understatement; it seems like an entire hive worked on her mouth." The Detroit Free Press devoted an entire article to Geena Davis's "bright red lips." While this may initially seem sexist (had there been this much press coverage of the lips of Presidents Bush, Clinton or Reagan?), I suppose that after myriad caricatures of Carter's teeth, Clinton's nose and Reagan's hair, what's fair is fair — for real and fictional presidents alike.
I have to say that I do enjoy the subtle gender-bending nature of the show. The masculine-sounding first name "Mackenzie" (shortened to the nickname "Mac") impresses me, as well as such delightfully incongruous scenes as President Allen walking barefoot, displaying her perfectly pedicured and polished toenails, across the presidential carpet of the Oval Office, or Allen and the former First Lady at a state dinner, both dressed in stunning formal gowns and coiffed updos, greeting each other with goofy yet somehow dignified military salutes. And just what is the protocol for how the first First Gentleman spends his time?
You can catch Commander In Chief on Tuesdays at 9 PM. (If you've missed a few episodes, you can read up on some background details.)
Posted November 2, 2005 by Mariva in entertainment, news