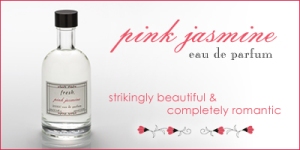 I made a special trip to Pure Beauty in the Castro to purchase its last inventory of the Smoothies hair claws that I like so much. (The Rake, Chunky Square and Skate claws are my favorites for quick, no-fuss updos. And check out the Trap Claw, which features a patented hidden spring that makes your French and faux-French twists look more elegant.) While I was there, the employees were busy clearing out the old "beauty supply" items and replacing them with chichi "beauty boutique" stuff. I decided to scope out the higher-end merchandise.
I found the most miraculous thing: a bottle — with an unostentatious label — of Fresh Pink Jasmine Eau de Parfum, the scent of which was splendiferous, even transcendent. (The product description lists its scent notes — a top of red orange, freesia, spring lilac; a heart of magnolia, peony, fresh jasmine, tiare flower; and a base of precious woods, velvety peach skin, marsh mallow — which I can't make heads or tails out of, but hey, it sounds fabulous.)
OK, I decided, I'll bite. So how much?
Seventy-five dollars. Oh. Definitely beyond my "impulse purchase" budget. OK, so how much for the Pink Jasmine Body Cream? Another $75? Well, then how about the Pink Jasmine Soap Set? Twenty-five dollars? Twenty-five dollars for soap? Man, that'd better be some fresh soap.
Luckily, I found the Fresh Pink Jasmine Gift Set — which includes the perfume, body cream and soap — for $95, instead of $175 for the three separate products. Now that I can live with — especially since the distinct scent from the tester bottle lasted on my cotton jacket for two days afterward.
Other notable products include LaLicious Gardenia Body Butter, Bumble and Bumble hair care products and Calypso fragrances.
Posted February 3, 2006 by Mariva in bath & spa, beauty, gifts