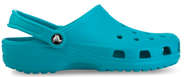 You know you're wearing something distinctive when strangers — men, women and children — approach you on the street and say, "Cool shoes! Where'd you get those?"
Crocs makes a variety of slip-on active footwear, each model available in a rainbow of colors. I wear my Cayman Crocs (an updated version of the original Beach model) everywhere: at home, at the beach, in the river, on the street, at casual restaurants, in the shower. They're cheap, waterproof, colorful, low-maintenance, appropriate for many types of weather and downright futuristic-looking.
The only downside is that one's feet tend to sweat in them, and while socks mitigate the sweatiness, they make the footwear look not quite as cool as sans socks. Still, though, I plan to pick up spare pairs in pink, purple and turquoise.
Posted April 4, 2006 by Mariva in fashion, recreation, travel