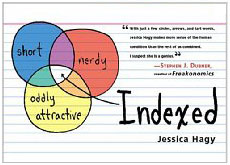 I spotted Indexed, another blog-turned-book success story, in the Chronicle Books store the other day. Indexed represents two great ideas: first, it's a novel use for index cards (other than, say, Getting Things Done with a Hipster PDA or other office applications), and it's also an inspired concept for a blog. ThisIsIndexed.com is one of those brilliant ideas, like the Million Dollar Homepage — simple, clever, and enviably unique (which translates into lucrative).
Every weekday, author Jessica Hagy — copywriter, doodler, and philosophical statistician — publishes a diagram or an equation that succinctly captures an insight into modern life. The index card doodles range from the trivial to the thought-provoking, most often amusing and challenging in terms of how fast you can "get it." Hagy covers topics as diverse as shelter-versus-purebred canines, drifter cuisine, the boggling math of emotion, and undergoing water torture (both voluntary and involuntary). Hagy includes larger, more complex figures in the 5×7 section.
Kindred spirit Hugh MacLeod, author of gapingvoid, also admires Indexed. Chronicle Books published a couple of companion products, the Indexed book of postcards — (because, go figure, index cards are the perfect size for postcards!) — as well as the Indexed notebook.
Posted August 13, 2009 by Mariva in arts, blog-turned-book, books, business, entertainment, fun, gifts, humor, innovations, media