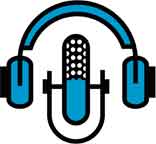 Only days after my initial careless omission of TWiT (this WEEK in TECH) in the list of the best free tech industry podcasts, I was fortunate enough to see Leo Laporte — who has a background in media, including radio and television — give an insider's talk about podcasting at last week's MacWorld. Here are some professional tips I picked up for current or would-be podcasters:
Bring passion. When developing a subject idea for a new podcast program, don't try to game the media market — find what you love or care about and talk about it. If you focus your show on what you're passionate and knowledgeable about, you're much more likely to generate interest and be successful.
Specialize in a niche. There are thousands of audio shows available, and, for every topic you can think of, there's at least one podcast for it. So instead of starting a new program about old cars, for example, start out by focusing on old Corvettes. Interview Corvette owners, dealers, and restorers. You can always expand your focus later. Also, don't worry about getting a huge audience right away. If you have an audience of 1,000 dedicated listeners, you're doing well. One thousand is a lot of people; if you were speaking to that many in person, it'd be an impressive crowd.
Posted January 24, 2008 by Mariva in audio, business, career, media, resources, technology