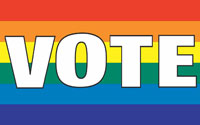 Really? There's an election? Gee, I had no idea.
For anyone living under a rock, the United States is approaching the decision that initiates the peaceful transfer of power (or the Quadrennial Showdown between Good and Evil, take your pick). Some elections are more contentious than others; the race for the impending presidential election on November 4, 2008 may be one of the most heated.
MSNBC produced a slideshow of voter portraits. After viewing just a few photos, though, I could accurately guess the voter's allegiance. For example, every single African American pictured is voting for Barack Obama. The lobbyist in a business suit is supporting John McCain. The hip young people tend to lean Democratic. The older rural white men are all Republicans. (Well, duh.) While I appreciate the diversity of American citizens featured, the voting populace is full of surprises, and I wish the slideshow reflected some of those instead of reinforcing stereotypes according to the conventional wisdom of demographics.
Tangentially, speaking of demographics, do you know about Generation Jones? Born between 1954 and 1965, "Jonesers" occupy the recently acknowledged generation between Baby Boomers and Generation Xers. For decades, Jonesers had been imprecisely lumped in with Baby Boomers, but their life experiences have been very different from those of Boomers. Instead of worrying about getting drafted into the Vietnam War or dancing in mud at Woodstock, Jonesers were listening to punk rock on their way to the unemployment office in the late '70s and wondering when Ronald Reagan would get around to mentioning AIDS in the '80s. (The name Generation Jones, according to Wikipedia, "derives from the slang term jonesing, referring to the unrequited cravings felt by this generation of unfulfilled expectations.") Both Barack Obama and Sarah Palin are members of Generation Jones, and the Jonesers bloc comprises a potentially large number of swing voters.
Posted October 10, 2008 by Mariva in community, education, media, news, resources