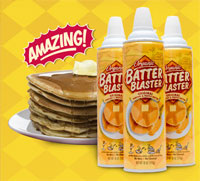 This is a story about pancakes. It begins in one of my favorite places. Let me explain.
San Francisco is not the densest city by any means, but space is at a premium nonetheless. So when a single store occupies an entire city block — a large city block — that is a big store in San Francisco. The experience of shopping at the only Costco in San Francisco feels like half-privilege, half-pandemonium. Wheeling a ginormous cart around the street-width aisles of Costco, for me, is a guilty pleasure. There's only so much paper towel and laundry detergent I really need, but I find any excuse to go. I would imagine that anyone who'd grown up behind the Iron Curtain might bask in the consumer abundance of Costco as a sort of earthly paradise.
In one of the refrigerated aisles, an entire case contained shelf upon shelf of bright golden-yellow spray cans. I thought nothing of the spray cans at first, assuming that the cans were just a brand of whipped cream I hadn't seen before. But I did a double-take as I noticed something horrifying on the cans: the word batter. Costco, you've got to be kidding me, right? Batter — (pancake and waffle, that is, not cake) — in a spray can? Look, spray cheese is bad enough, but spray batter heralds the end of civilization.
Perhaps even more amazing was that the word organic also appeared on the can. I've been brainwashed by Whole Foods, I admit, but when I see the word organic, I automatically think healthy. (Or at least healthy-wannbe.) Was it possible for something healthy to be stored in spray can — which, by defnition, indicates processed food? Who could have predicted that I would stumble onto such a paradox in the refrigerated section of Costco? Organic and spray can seem like matter and antimatter: how can they simultaneously occupy the same space?
Posted September 9, 2008 by Mariva in business, edibles, health, innovations, kitchen