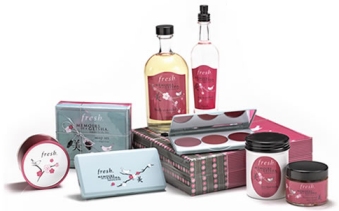 Oh, man. With all due respect to Crash, Reese Witherspoon and, um, Three 6 Mafia — Brokeback Mountain, Felicity Huffman and Dolly Parton were robbed. Oh, Oscar, I wish I knew how to quit you.
Also overlooked — by critics and the Academy alike — was Memoirs of a Geisha. While visually stunning in its cinematic narrative, Geisha may have made the critics happier if the screenplay had been bookended by (warning: spoilers — you may highlight the following white text if you've already seen the movie) scenes of New York City as the novel had been. I believe this would have made the story more cohesive and satisfying — especially to those who hadn't read the book. But heck, what do I know.
The movie may not have inspired critics, but it did inspire Geisha fashion, renewed popularity of the Maiko Barbie Doll, and — from Fresh, makers of my new favorite scent — the "Memoirs of a Geisha" beauty collection.
Posted March 6, 2006 by Mariva in arts, beauty, books, fashion, gifts, movies, music